QUALITY
Thanks for visiting Dragonfire Tools. Dragonfire Tools Manufactures Quality, Affordable Work Benches and Cabinets to our specific engineering specifications and standards. Don't be fooled by others you see out in the market. Need higher quantities? Please contact us for a custom quote. Need Lime Green? We can do that via our custom orders. Current production time on custom and special orders is 60-75 days. Call Lew 724-757-3336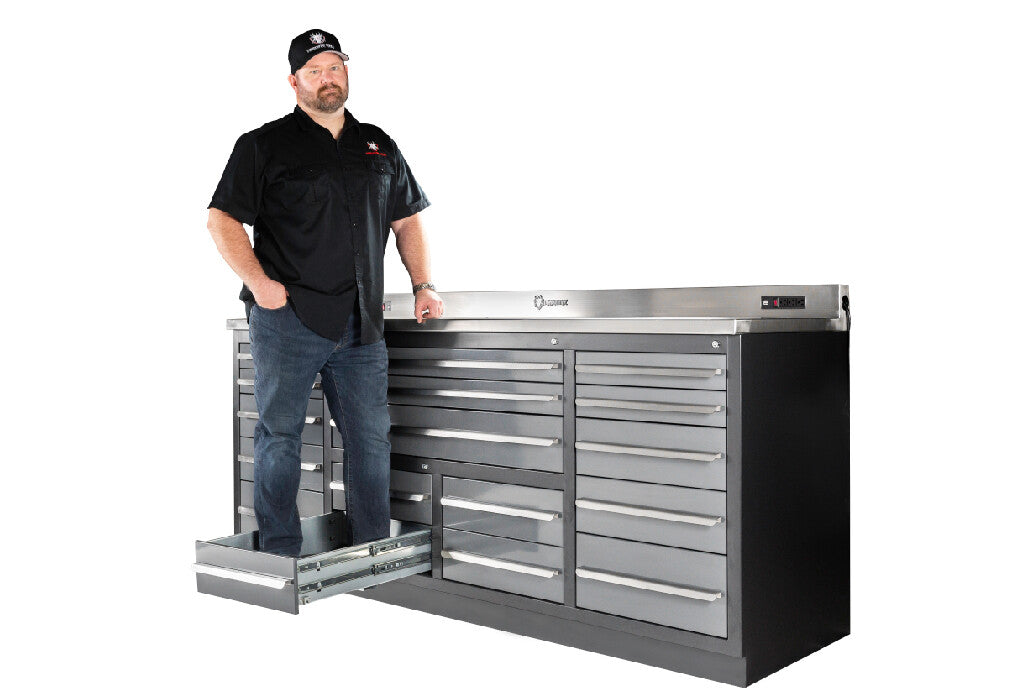 HISTORY
Dragon Fire Tools was started in the spring of 2016. I was a machinist in the United States Navy on board the ballistic missile submarine USS Pennsylvania SSBN 735 from 92-96 so I know all about getting dirty and turning wrenches. My grandfather owned a towing business and I spent many a weekend working on cars and learning mechanics. The most valuable thing I learned in business is to under promise and over deliver every time to the customer. This way, the customer is never disappointed.
When I started this, my goal was to try and put together an affordable and quality solution for home shops, garages, and industrial shops. I wanted to offer an alternative to big name brand boxes that cost sometimes tens of thousands of dollars and offer little to no work space. I felt that there was no need to spend all that money on a box just to put your tools in. I wanted to build products that I knew I would be proud to use myself. By putting together a workbench along with tool storage I felt that I was solving multiple problems at the same time, and the response so far has been great!
We are constantly upgrading the design of our cabinets and workbenches using feedback from customers just like you who are using these everyday. Our commitment to our fellow wrench turners is to continue to strive to provide the best quality product at an affordable price.
I talk with every customer after delivery to make sure that they are happy and I also follow up with them periodically to ask for any suggestions after they have had one of our products for a few months. Your valuable feedback is how we are able to continue to make the products better. I am about building relationships with our customers, and as the owner I take responsibility for those relationships and love talking with customers. If you want to know a little more about me and my background, please connect with me on linkedin or give me a call at 724-757-3336, I'd love to talk with you and answer any questions you might have.
ALL THE BEST,
LEW AMICONE / OWNER DRAGONFIRE TOOLS