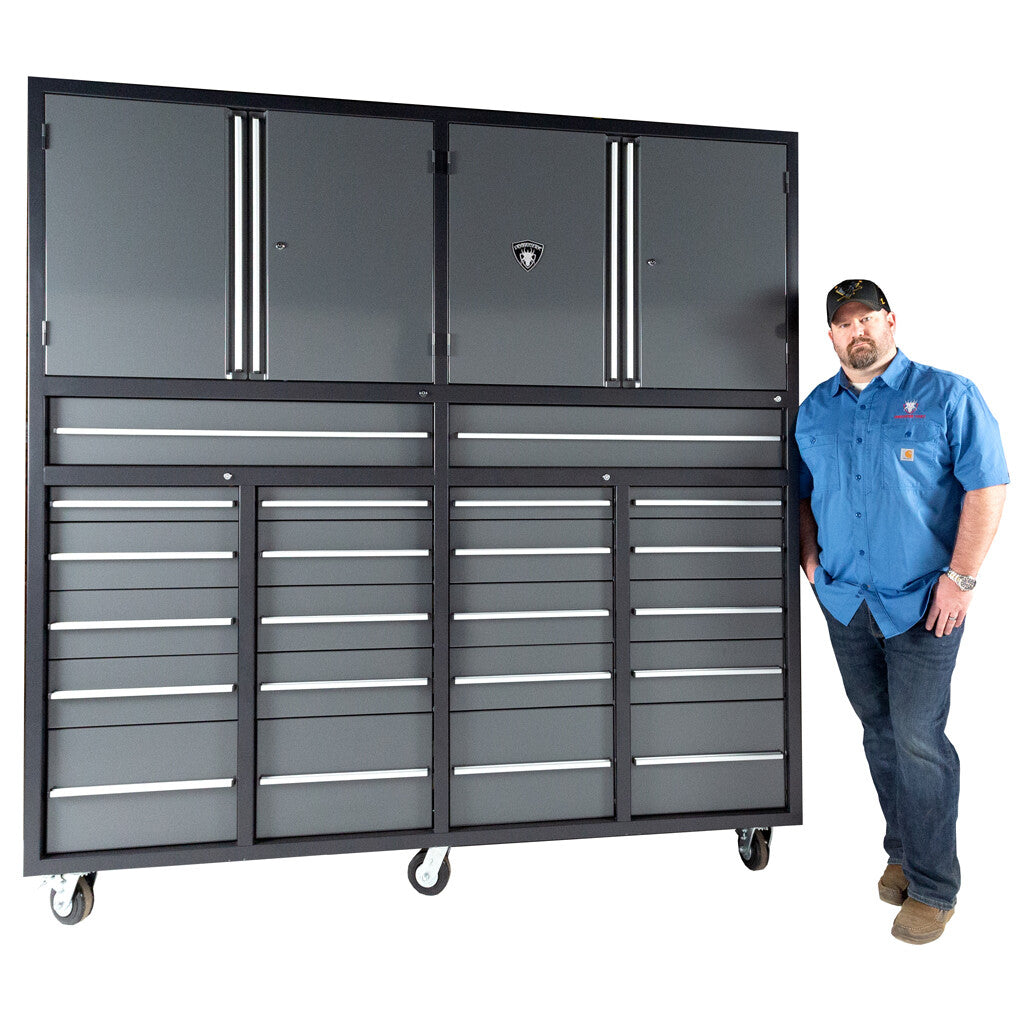 22 Drawer Midnight Pro Series Roll Around Tool Cabinet
Share This
5.9K
541
157
114
1.3K

8K

Shares
Use the code"FATHER" and get $100 OFF the order of any workbench and FREE SHIPPING to anywhere in the Continental United States. Offer expires June 21st.
SEE ADDITIONAL DETAILS
Description
22-Drawer Midnight Pro Series Roll-Around Tool Cabinet
Edited by Lew Amicone
With this portable rolling toolbox, you don't have to spend a fortune to get the best mobile workbench for your shop. Our 22-drawer stainless steel roll-around toolbox is strong enough for a professional, boasting sturdy, industrial-strength materials and the convenience of being able to bring along your tools wherever you need them to be. With its 22 drawers and dual locking cabinets, this is a portable storage solution you can count on!
One Rolling Toolbox with a Place for Everything
Our 22-drawer portable rolling toolbox has four skinny drawers that can hold 100 pounds each, and the remaining 18 deep and wide drawers have a capacity of 300 pounds each. Even your heaviest tools can find a home in these roomy drawers, which are made from 14-gauge steel. There's no excuse for clutter in your shop once you have one of these reliable tool cabinets. Every tool will have its place, without needing to turn long tools sideways or pile your hand tools into a few jumbled drawers. You don't need to waste time rummaging around for the right size wrench when you use this 22-drawer tool chest as your organization solution.
Portable Tool Storage Where You Need It
Another thing that makes this the best mobile workbench is its heavy-duty casters, which allow you to roll your tools from one end of the shop to the other or even up into a truck to be taken to a remote work site. The cabinets and drawers all have locks, so you won't have to worry about losing anything in transit. Opt to add foam drawer liners and your valuable tools will be able to travel in comfort, too.
Great Value and Great Service
At Dragonfire Tools, we're dedicated to providing you with dependable solutions for all of your workbench needs at a price you can afford. We believe that you shouldn't have to spend a small fortune to get the box you need, and you shouldn't have to settle for inferior storage products, either. When you buy a rolling tool cabinet from us, you can even customize it to your needs: If you don't see what you want, contact us and we'll make it for you!
Place your order today and we'll stand with you through delivery and beyond. We'll even check in with you after you get your new tool chest to see how you like it. We're open to suggestions for improvements, too. We're always looking for ways to make our great products even better! And of course, we back all of our products with a five-year warranty to give you extra peace of mind. While it's highly unlikely that your toolbox will let you down, if it does, we'll make it right. That's how confident we are in the quality of our industrial tool chests and workbenches.c
22 Drawer Midnight Pro Series Roll Around Tool Cabinet Dimensions
| Drawer | Size WxDxH | Rails | Capacity |
| --- | --- | --- | --- |
| A | 41.5″x 21.12″ x 4.5″ | 2 Set | 300Lbs |
| B | 17.9″ x 21.12″ x 2.5″ | 1 Set | 100Lbs |
| C | 17.9″ x 21.12″ x 5.25″ | 2 Sets | 300Lbs |
| D | 17.9″ x 21.12″ x 10.25″ | 2 Sets | 300Lbs |
Cabinet
Inside Dimensions
E
28.66″ Top to Bottom
39.36″ Wide
26.37″ Front to Back
Product Materials
Measurements: 87″tall X 84.64″ Wide 26.37″ Deep

Our NEW 22 Drawer Roll Around Cabinet Features the following
All Steel Welded Square Tubular 14 Gage Steel Frame
All Steel Drawers with 14 Gauge steel drawer fronts and 14 Gage Steel Drawer Bodies
Brushed Aluminum Handles recessed to the edge of the frame
Fully Enclosed Backs
Steel ball bearing rail slides for smooth drawers. 4 slides per drawer on Deep Drawers. (2 per side)
Skinny Drawers Rated at 100 lbs
Deep and Wide Drawers Rated at 300 lbs.
Dual Locking Cabinets with shelf and magnetic closure
Locking Drawers
All Powder Coat Finish
6 Heavy Duty Casters INCLUDED.
Shipping Weight 1556 lbs
High Quality 1/8 Dragonfire Anti slip drawer liners available for $80 per set